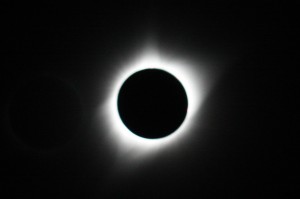 If you ever get a chance to see a total solar eclipse, do it. Growing up in a family of amateur astronomers, I have many memories of club meetings where members shared pictures and stories of various eclipses they traveled to see around the world. Almost everyone would go to one, get bit by the eclipse chasing bug, and then see another and another… and… well you get the picture.

Living just a day's drive from the path of totality, there was no way I was going to miss the opportunity to see the solar eclipse of August 21, 2017. To make the event even more special, my brother, his wife, my mom and their two dogs made the journey from Toronto to meet us for the viewing. This was my mom's second eclipse trip and she took care of the details – we joined the North York Astronomical Association, camping out at a ranch near Douglas, WY before heading to the Black Hills for a few days vacation.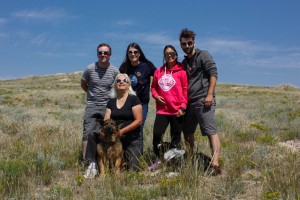 Since Mike and I had about 1/3 of the driving the Ontarians had to do, we added a little extra to our trip. We stopped in Gillette on the way down and had a delicious dinner at a Mexican restaurant. The town was having a huge eclipse celebration and it was a lot of fun to see everyone embracing the event. There were themed t-shirts and a music festival and we were told there had been a running race and car show and other events during the day. We all convened a the ranch a day early to ensure everyone made it with time to spare. It was great to see family – we hadn't seen any of them in person since we moved to Saskatchewan the year earlier.
We lucked out completely with the weather. It was gorgeous, clear and warm. And the eclipse was thrilling! We checked in with solar-filtered binoculars and eclipse glasses watching the progression of the moon across the face of the sun. We kept an eye on the time, making sure we all caught every contact as it came. The thing I expected the least was the temperature change. It was quite hard to notice any change in light level until very deep into the event, but the temperature drop was measurable. Totality was absolutely breathtaking. The birds were quiet. Brighter stars came out. It would have been terrifying if we didn't know what was going on. Then third contact came, and we were on the other side. Everything slowly went back to normal. I can see how people get hooked on this!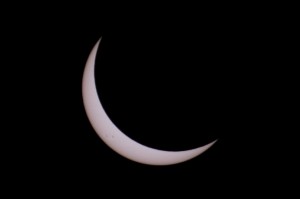 After the event we said goodbye to the rest of the astronomers and headed off to the Black Hills. We booked a few days of camping at Agnostura State Recreation Area and a few days in a cottage in Lead which, we were surprised to discover, is home to a mine-turned-scientific laboratory similar to the SNO in Sudbury, Ontario. We took a day trip to Deadwood and one to Rapid City, where we had fun visiting Dinosaur Park. And just like that it was time to start the long drive back home. For the DeBonds of Ontario that meant three days on the road, while Mike and I got a hotel in Dickinson for a few days so we could do some bike riding in Medora before heading home. Wyoming and the Dakotas are beautiful. I am constantly impressed by how much there is to see and do here in the middle. I hope we get back there soon!