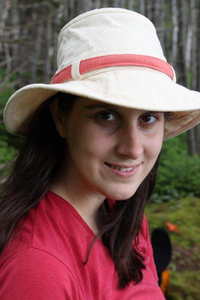 I originally hail from Scarborough, Ontario, but I'm currently living in Waterloo, Ontario. Previously, I was exploring Asia and calling Hsinchu, Taiwan home. Recently, I completed a M.Sc. degree in Earth Sciences at Memorial University in St. John's Newfoundland, where my project involved using stable isotope techniques to investigate the cycling of organic matter in the environment. More information about my education and academic awards is available here.
Science:
My formal education is in the Earth sciences, however I love it all! I'm an ammateur astronomer, and I volunteer in youth science intiatives (e.g. workshops and as a science fair judge) whenever I can. Science fair holds a special place in my heart, as I participated every year until I was 16, and even went to the Canada Wide Science Fair (CWSF) twice as part of Team Toronto. I attended CWSF 2001 in Kingston, ON, and one year later I won silver in my division (intermediate physical sciences) at the competition in Saskatoon, SK. That year, my project looked at the effectiveness of chemical breathalyzers.
Sports & Outdoor Activities:
As a kid/teenager I played competitive softball and took tennis lessons, but these days I find myself playing soccer and working on my squash game. I have always loved hiking, and early on during my undergraduate studies, I progressed to backcountry backpacking and canoeing. Newfoundland was a wonderful place to indulge this hobby, and Mike and I spent nearly every good weekend we could in the tent somewhere. In September 2011, we accomplished one of my life goals: hiking the Long Range Mountains Traverse (see Parks Canada, and a photojournal by Mike for more information).
On a day to day basis, my favourite mode of transportation is biking. I cycle-commuted all the way through undergrad, and being in a bike-friendly city is important to me! In addition to a commuter bike I can leave locked up outside, I ride an Opus Triton for fun on the road and use a Giant Defy 3 for bike touring. My most recent cycling accomplishment has been completing a ~ 1000 km circut around Taiwan, which I reviewed in a trio of blog posts (1, 2, 3).
The Arts:
In a cross-over between the worlds of Science and Art, I build balsa wood airplanes (that are capable of rubber band-powered flight) during the winter. I also enjoy reading, and making music. In addition to playing the piano, I played flute in concert bands and other ensembles from grades 4 to 12. I'd love to join a concert band/ensemble again in the future!
Contact:
The best way to contact me is via email: web@nicoledebond.com