With good weather forecast for the weekend and no hot water at home, we decided now was the time to go on our first overnight bike trip here in Taiwan. There's something really satisfying about travelling away from home under your own power. We chose to head over to the relatively nearby mountain town of Neiwan, home of lots of delicious food, hot spring spas, a suspension bridge and go-karting. It is a very popular day-trip location, yet it has a number of places to stay, so we thought we'd take our chances and see about finding a place for the night once we arrived in town. We had no trouble finding a spot, and ended up staying in a wonderful little B&B type place that overlooked the town.
It took a couple of hours of nice (generally uphill) riding to get into the little mountain town. There were some stretches of road that were a little busy, but it was definitely a popular route for local roadies – we saw many happy cyclists along the way.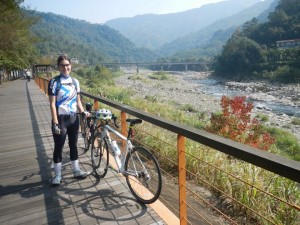 Once in Neiwan we rode around for a while looking for the B&B that we wanted to try first. It took a while to find the way, but we made it, and they had room! We showered up, changed into street clothes and hit the Old Street for lunch. We had some brightly coloured rice buns, pork skewers, glutinous rice tamales and some local oranges. Yum! We also bought some spicy peanuts, sesame cookies and a bottle of local honey to take home. After checking out the bridges and the boardwalk, we looked in on the local hot spring spa, thinking a hot bath would be a great way to relax our legs. However, it was a popular spot, with all the private rooms booked for a couple of hours past our arrival time. We decided to get dinner back at the restaurant that was part of our B&B and see if we still felt like the spa after dinner. In the end, I was pretty tired, so we had a couple of beers and enjoyed the scenery from the suspension bridge, and then hit the hay. There is an old theatre-turned-restaurant in town, and it is apparently a beautiful spot for cherry blossoms in the spring, so I'm sure we'll be back again!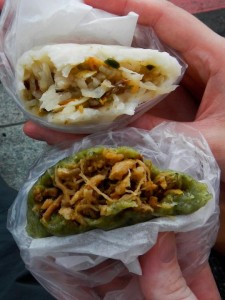 The next day we traveled upstream a little further, before taking an alternate route back to Hsinchu via Beipu. We took far quieter roads, but had a couple of big (category 4) climbs and I was completely cooked by the time we set foot in our apartment. The ride today was the longest I've done since we lived in Ontario, and I'm looking forward to logging many more kms and going on a few more overnight trips.