With the arrival of Chinese New Year and a 2 week vacation, Mike and I set out for a whirlwind tour of parts of Southeast Asia.  The plan: to fly to Singapore and make our way mostly by surface travel to Phnom Penh, Cambodia over 2.5 weeks.  We spent the first week with my dad's girlfriend Olivia's family in Malaysia and Singapore before hopping onto a plane to Koh Samui, Thailand for some relaxing on the beach. 
Saturday February 2 We woke up at 4:30 am to finish up preparing our apartment for our absence and doing last minute packing. We caught a cab to the airport and were greeted by a nice surprise: an upgrade from Economy to Elite class by Eva air. Starving, and used to short flights in North America where you get no food, we grabbed a quick breakfast and wolfed it down before getting on the plane. There we discovered nice roomy seats and a yummy breakfast were waiting for us. Having leg room for once was really great.
We were picked up by Olivia's brother, Rayford, and his wife Gillian at the airport in Singapore. They said it was pretty easy to find us – I definitely look like my father's daughter, and they have met a few times before. G&R took us out for lunch at a lovely Malay restaurant at Gedung Kuning. After lunch we checked out the old Sultan's Palace grounds (now a Malay Heritage Centre), and the colourful neighbourhoods of Arab Street and Little India. Then we stopped for some shaved ice snacks to escape the heat. Mine had durian (and red bean and the ubiquitous corn) and Mike's had sea coconut. Yum! Then we went back to G&R's house for a rest and a dip in their excellent neighbourhood pool. After cooling down, we headed out to an open air seafood restaurant where we met Olivia's sister, Hedy, and dined on lots of delicious dishes including crab prepared a couple of different ways. Finally, we were whisked off to the riverfront for beer and conversation with G&R's daughter Candice and her husband Matt. We finally ended up in bed, exhausted, a little after midnight, after a wonderful day!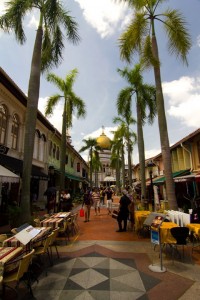 Sunday February 3 We were up early again to get a delicious breakfast at a Hawker Centre and Market with G, R and their grandson Connor. They then dropped us off for a half day at the bird park. The bird park was amazing! Mike had a great time taking photos, and it was really neat to see so many different species up close. We caught the "High Flyers" show, which had lots of birds flying overhead and even a little parrot singing songs in Malay, Chinese and English!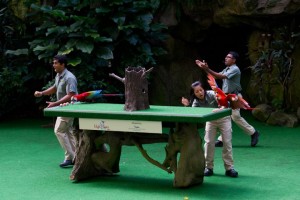 In the afternoon, we were picked up and dropped off to meet Olivia's daughter, Cheryl, at the Gardens by the Bay. We spent some time exploring the amazing Cloud Forest Conservatory and the Flower Dome before getting lunch and catching a cab to Sim Lim Square to browse the electronics and pick up an extra SD card for the camera. We then walked over to Bugis for some window shopping before hopping on the MRT to return to G&R's. G&R picked us up from a convenient station and took us for a delicious dinner of chicken rice. They offered to take us to Chinatown, but we were exhausted, so we just had a quick cool down dip in the pool and headed to bed early. We were going to have another early start the next day – the beginning of our Malaysian road trip!
Monday February 4 Up early again, we had a quick breakfast and then got in the car! We had no problems driving across the border – the traffic was quite good. One neat thing about driving across the border is that you have to have a certain amount of gas in your tank. Gas is much cheaper in Malaysia than Singapore (due to taxation), and this is to discourage driving across for a fill-up. After our border stop, we drove on to Melacca, where we had a lunch of Nonya cuisine: a unique combination of Chinese and Malay cooking. We were then dropped off to explore while G&R went shopping in preparation of Chinese New Year. We walked through Jonker's Street Market, A'Famosa Fort, the remains of St. Paul's church and a Spanish Galleon converted into a naval museum. Sadly the boat was closed for the day. Then we did some shopping, picking up some snacks and some sandals, before finishing off our time in Melacca with some Tiger Beer and people watching.
G&R picked us up, and then we drove on to Kuala Lumpur. The traffic in KL was horrible! We found our hotel and set out for dinner. We ended up eating in the Petronas towers, and then went to get some cityscape photos. We walked over to KL tower and took the elevator to the top for a nice night view of KL and the Petronas towers. We wanted to take the city's monorail back to the hotel, but were too tired to bother after the full day's adventures, so we hired a cab instead.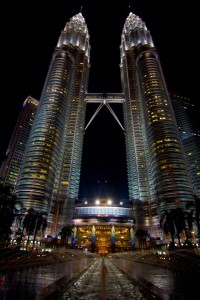 Tuesday February 5 We had another early morning, as the day's activity was to visit Gua Tempurung, a limestone cave system for some spelunking. The last tour of the day begins at 11 am and we were a few hours drive away. This experience was one of the very best on the trip. We were taken all the way through a limestone mountain and out the other side, on a ~ 4 km loop that involved wading through an underground river, squeezing ourselves through some tiny spaces and sliding down a giant smooth rock face maybe 20 feet tall. It was made all the more special by the knowledge that such a tour almost certainly would not be allowed back home. You were advised to bring a flashlight (as it is, of course, pitch black for much of the journey), and to wear sensible clothing, but there was no protective clothing (hard hats, steel toed boots) provided at all. In fact, we tackled it in the flip-flops that we bought the day before so as not to ruin our running shoes. That plan didn't work out quite as well as we thought, since they kept falling off in the current of the underground river, and as a result we ended up walking much of the journey barefoot! If you plan on this adventure, and have room in your bag, water shoes would be a good idea.
The cave itself was absolutely spectacular. It began as a huge open area like a cathedral, with speleothems galore. Further along, we crossed rivers where you could see small placer deposits of tin. Further along still, you could see evidence of locals hiding out from the Japanese during World War II. On the way back, we travelled along the underground river, and saw spectacular rooms of fresh, dripping, dazzlingly white stalactites and delicate soda straws. Truly amazing! I wish I had some photography from the adventure, but since you often had to submerge yourself in water up to your shoulders, we didn't bring the camera. You will just have to go and see for yourself, or check out their website!
After the cave tour, G&R picked us up and drove to Ipoh where we got a delicious late lunch of duck and rojak, a salad that everyone tosses for luck at the new year. Then we drove to our hotel and, tired, had a quick nap. Mike and I then headed to the hotel's hot spring to relax after being crouched over for so long in the cave. Next we did some exploring and found a place to have a late evening snack. We tried curried chicken hearts and a roti dish that was stuffed with chicken and served with three sauces. I probably won't be eating the former again, but the latter was a hit! I wish I could remember what it was called.
Wednesday February 6 With less on the agenda for today, we slept in a little and had a late breakfast. Then we packed up and piled into the car for the last leg of our Malaysian road trip. The last stop was Penang, but we took a quick detour to a royal town whose name I cannot remember, to see what an operating Sultan's Palace and Mosque look like. They were absolutely breathtaking.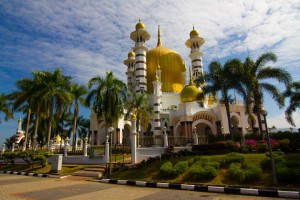 Once we arrived in Penang, we grabbed lunch at another open air restaurant, and then G&R dropped us off at the base of Penang Hill. The plan was to take the tram to the top and get out of the oppressive heat for a few hours. Visiting Penang Hill is quite a lot like visiting Victoria Peak in Hong Kong. We enjoyed the view, and walked quite a bit of the loop road before heading back down. G&R had booked us into a beautiful colonial house that was turned into a restaurant, spa and hotel. We freshened up, contemplated the spa services and then joined them for one last special buffet dinner in the hotel restaurant. After dinner, they drove us down to the waterfront, where we said our final good-byes. G&R were leaving for the long drive back to Singapore and their Chinese New Year celebrations very early the next morning, while we were going to catch a flight to Thailand later on. We walked along the waterfront for a while, checked out a mall we found, and then grabbed a few beers before retiring for the night.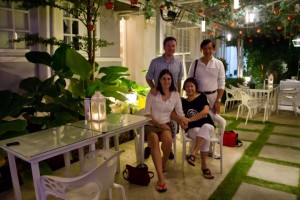 I can't thank Gillian, Rayford and all the rest of the family in Singapore enough for making the first leg of our Southeast Asian adventure a fantastic experience. G&R were very thoughtful and organized, and packed our days full of delicious food and new experiences. We had a fantastic time, and would like to return the favour some day!