As I wrote before, the day after I finished teaching at Royal we packed up our bags and started to cycle around Taiwan, something referred to here as 環島 (huandao), meaning 'circle the island'.
Our trip can be neatly broken down into three sections: 1) the northern cross highway over the mountains; 2) the east coast and 3) the west coast.  I want to write about it in some detail for any future interested cyclists, so I will break it down into three posts based on those divisions.  But before we get there…
A Summary of Our Huandao:
Days away from home: 18
Days on the bikes: 16
Total kilometers: ~1000 for me (I have no cycling computer), 1184 for my husband Mike
Mishaps: 2 (broken spoke, flat tire)
And of course, innumerable 加油! (jai you!, which has a meaning like "go!  go!") from fellow cyclists, motorists and pedestrians along the way.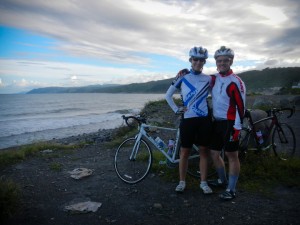 Day 1: Hsinchu to just outside Guanxi, 58 km.
Day 2: Guanxi to Baling, 52 km
Day 3: Baling to Luodong, 85 km
Day 4: "Rest day", cycling around Luodong, 36 km
Day 5: Train to Hualien, cycling to and from train stations, ~10 km
Days 6, 7: True cycling rest days, scooter touring
Day 8: Cycle around Hualien and to new hotel, ~15 km
Day 9: Cycling solo: Mike goes to Wuling (222 km), I do part of the Hualien bike trail (~30 km)
Day 10: Hualien to Jingpu Village, 79 km
Day 11: Jingpu Village to Taitung, 98 km
Day 12: Taitung to Dawu, 62 km
Day 13: Dawu to Hengchun, 64 km
Day 14: Hengchun to Kaohsiung, 102 km
Day 15: Kaohsiung to Tainan, 55 km
Day 16: Tainan to Chiayi, 72 km
Day 17: Chiayi to Yuanlin, 64 km
Day 18:  Yuanlin to Hsinchu, 132 km
Some notes:
1. If you add up all the distances above, you get 1014 km for me, and 1206 for Mike.  The distances reported for each day are from Strava and (sometimes flaky) GPS tracking, and estimates from Strava-free days while the "official" 1184 km final count is from Mike's odometer.
2. We chose to cross the mountains on highway 7 instead of taking the coastal route all the way around Taiwan.  If you're a purist and stick to the coastal roads for your huandao, the northern coast is ~244 km compared to our 195 over the mountains.  But the coastal roads are pretty flat, and if you add up all the elevation in the mountains, I think we can call it even.