I've completed another model! Last winter, my modelling took a turn for the nautical. I started a complicated project from my father-in-law, and picked up a simple kit while visiting my sister-in-law in North Carolina to work on as a break.
The complicated project was a (1974?) Revel Cutty Sark at 1:96 scale. It was originally gifted to my father-in-law by his father, and had been waiting patiently in the basement for someone to assemble it ever since. I said I'd do it, but that it belonged in Port Hope, so I'd be bringing it back when complete. Last winter, I got through most of the hull construction. It was very different from any of the other modelling I've done before – usually I don't take on projects that need much paint.
This winter, I took the model out again and worked on the masts and rigging. The model kit was designed to be displayed with either sails billowing or sails furled. It took a while to decide, but in the end the model's plastic was aged enough that many of the pins were too brittle to tie rigging to, so I just did the standing rigging and left the rest. I think it turned out pretty well: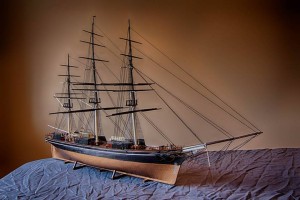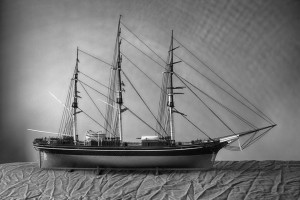 Now all that remains is taking the Cutty Sark back to Port Hope so it can take its rightful place in my father-in-law's garage. I just need to figure out how to get it there in one piece!