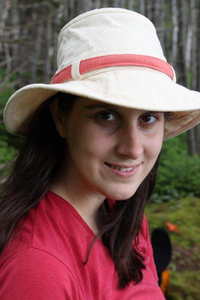 Nicole is currently living in St. John's, Newfoundland and enjoying maternity leave with her daughter while her husband completes a residency in clinical psychology at Memorial University of Newfoundland.
Nicole is on leave from being a project analyst at Associated Engineering. Her recent projects have included the predesign phase of the Westside Irrigation Project and the Regina Bypass (Owner's Engineer), which won an Award of Excellence and the Pinnacle Award from the Association of Consulting Engineering Companies – Saskatchewan (ACEC-SK).
Nicole has formal education in the Earth Sciences and holds a PMP (Project Management Professional designation).
Nicole has a variety of interests that compete for her spare time. She is an ammateur astronomer and musician, an active outdoors person, and a leader in the cycling community. She is pleased to be back hiking in Newfoundland, and recommends hiking the Long Range Mountains Traverse for any backpackers looking for bucket list hikes (see Parks Canada, and a photojournal by her husband Mike from their trip for more information).
Contact:
The best way to contact Nicole is via email: web@nicoledebond.com