I had some unfinished business after the 2018 road season came to an end. After a winter of reflection I set some goals for the 2019 road season, and I'm pleased to say I reached almost all of them!
Here's the rundown:
1) Ride More RCC Tuesdays – Done
After only attending a few RCC Tuesday Nights last year, my first commitment to myself was to make RCC Tuesdays my primary cycling night. Last year I was very nervous about making the step up from the Spoke'n'Hot women's club to racing in a mixed-gender club. Especially since with no car, that would involve ~45 km of riding just to get to the start and back!
This year I decided I would commit to riding to the start every week and doing my best with the race when I got there. Even getting dropped, I'd be getting a good workout and I was looking for more of a challenge and a lot more on-the-bike time than I was getting in the other club. I'm happy with my performance this year – I didn't skip any nights because I didn't think I could do it and I had a great time building fitness and getting better at riding in the pack. I'm really looking forward to doing it again next year!
2) Do some provincial racing – Achieved
I had planned to ride at minimum the Moose Jaw Spring Classic this year. Things didn't quite work out – we were out of town for nearly all of the road race events this year including for that event. But we were in town for the weekend that RCC hosted the SCA Provincial Criterium race, and so to meet this goal, I did that. It was my first experience with crit racing, and as there are so few women racers, there is a mixed gender start. So I went into it with 3 simple goals: get a feel for this style of racing, hang in for as long as possible, and don't crash. I hung on for about 30 minutes before there was a surge I couldn't keep up with. I tried hard to stay on the same lap as the group that got away, but I ended up getting lapped by most of the men's field right at the end. I learned a lot, had fun, and was rewarded with a gold medal for being the only woman competing in Master's A. I'm glad I did one race, and will try and make a few more events next year.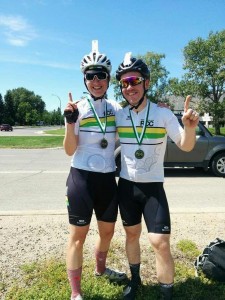 3) Ride 100 Miles – Done
My next two goals were number chasing in true roadie style. I usually think about rides in terms of routes, conditions and time on the bike rather than setting out with a distance in mind, but with that kind of approach I hadn't yet ended up completing much more than 100 km in a ride. I have had some big days touring with gear, but I really did want to tick that box and join the 100 mile club. A perfect opportunity presented itself in the form of a 'one km for every year of Canada day' ride which had a start ~4 km from the house. The 152 km ride plus 8 km to the start and back would leave me having to do just a lap or two around the block on the way back to reach 161 km on the day. Not only did I get my distance, it came in the best kind of package: beautiful weather, good company, a nice lunch and a scenic route.
4) Crack 3000 km on Strava – Smashed
This one only partially fits into road racing, as I suspect not all 3,000 km were in this discipline, but this summer I spent the majority of the time on my road bike, so I'm including it here.
After an evening of reviewing some of my more adventurous rides, I noticed that I had never managed to crack 3000 km recorded on Strava. In practice I ride quite a bit more than that – I usually get up in the 2700 km range on the app and a large amount of my cycling goes unrecorded on top of that (for example, I rarely record trips on my commuter). Since round numbers are appealing I thought I would make sure I put the extra push in this season to not only break my year-on-Strava record, but to make sure I got up and over that milestone. I smashed this goal! Between committing to Tuesdays, riding to/from those starts, and riding on Thursdays (more on that below), I had no problems achieving this goal well before skinny-tire season ended. I am currently sitting at just over 4000 km on Strava with virtually no commuter kms posted and fatbike season yet to come!
5) Encourage more riders to join RCC – In progress
Mike and I have been discussed starting a casual ride night for two years now, and we finally pulled it off. We started a regular ride on Thursdays that was oriented toward social riding and teaching newer riders group riding skills. We rode no-drop routes and with a few sprints built in to create opportunities to learn race strategies, and often had dinner with the group after. It was a great success! We would regularly get 10 or more riders out (including women), and a number of club members hosted rides that started from their homes. I'm really looking forward to continuing this program next year.