Given that we said our goodbyes and spent three days driving from Ontario only a few short months ago, we weren't quite ready to go back home this Christmas. Instead, we decided to visit a friend of ours from our time in Taiwan, who's now working in Calgary. We rented a car and did a whirlwind tour.

Before landing in Calgary for New Year's Eve we wanted to try out fatbiking in Fernie, and to take a dip in the hot springs at Radium. So we started out by driving to Pincher Creek from Regina. Then we woke up early and headed out to Fernie. We rented a couple of fatbikes, popped some clipless pedals on them and headed down to the cross-country ski trails. It had snowed a lot overnight, and there was about 25 cm of fresh powder on the trails. That made for some pretty hard going and lots of hike and bike in the trail network, but around the chalet where the snow was more packed down the bikes were a lot of fun. Mike had an absolute ball… I think he'll be wanting to get one of those soon!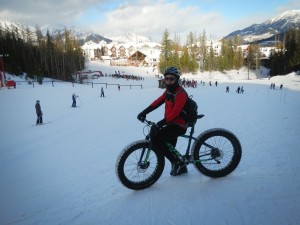 After the bike ride, we drove over to Radium Hot Springs. We checked in to our hotel and then headed over to the hot springs. Fatbiking was fun, but relaxing in the hot water while the snow fell around us was the highlight of my day. I felt nostalgic for our visit to Lake Biwa, with a nice hot soak after walking around all day in cold rain. If I were a local, I'd be springing for the annual pass for sure.
The next day we woke up early again to continue our whirlwind tour. We drive out to Lake Louise to check out Chateau Lake Louise and do a bit of skating on the lake. The lake was packed, and very picturesque. And skating was a nice break from all the time in the car. We will definitely have to come back for some hiking in warmer weather.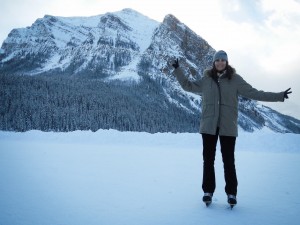 Next up was driving to Banff for lunch and then drove in to Calgary. The next day was New Year's Eve. We met up with Marvin, who took us to a great sushi restaurant where we caught up a and reminisced about hanging out in warmer weather in Taiwan. He mentioned there would be a band and fireworks at a square downtown, so we walked over after dinner. When we got there we realized it was 54-40! I guess they didn't make it big in the Philippines – our friend Marvin was surprised that the whole crowd was singing along.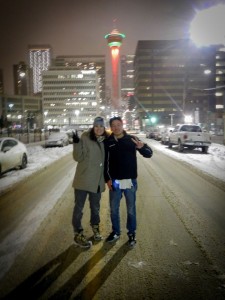 After ringing in the New Year it was time to get back to reality and return to Saskatchewan – back to work and to the start of a new term!