Friends of ours from Taiwan, Gavin and Pamela were planning to take summer holiday visiting Gavin's parents in Vancouver, Washington. We were about ready for a vacation and they suggested we come and visit too! If there's one rule for a good trip, it is spend time with locals, so of course we took them up on it!
Gavin's parents were wonderful people, and very accommodating to have a couple strangers in their house. And Gavin was a wonderful tour guide. We spent a bit of time in Portland, taking in a few breweries, a trip downtown, a visit to REI and we window-shopped Voodoo Donuts, but the lineup was massive and there was too much to do, so we didn't actually try one. We did however make more than one trip to King Burrito, a local legend that deserves a line at least as long as the one at Voodoo Donuts (although I'm glad the line there was shorter).
As much as Portland was fun, the best parts of the trip were driving around where Gavin grew up. He's a "spot" guy (as in, "I know this spot…"), and so we checked out all the places he'd go with friends to pass the time.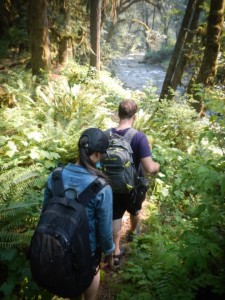 One of the places he brought us to was a a camping site near Mt. St. Helens, and did a bunch of hiking and exploring. I was absolutely fascinated by the geology of the area. Lava tubes are so intriguing and the stratigraphy is amazing! We also took a trip to a beautiful waterfall. The water was crisp and cold and Gavin warned us about jumping straight in. Boy was he not kidding! The water was so cold my muscles seized up and I pretty much had to get out right away.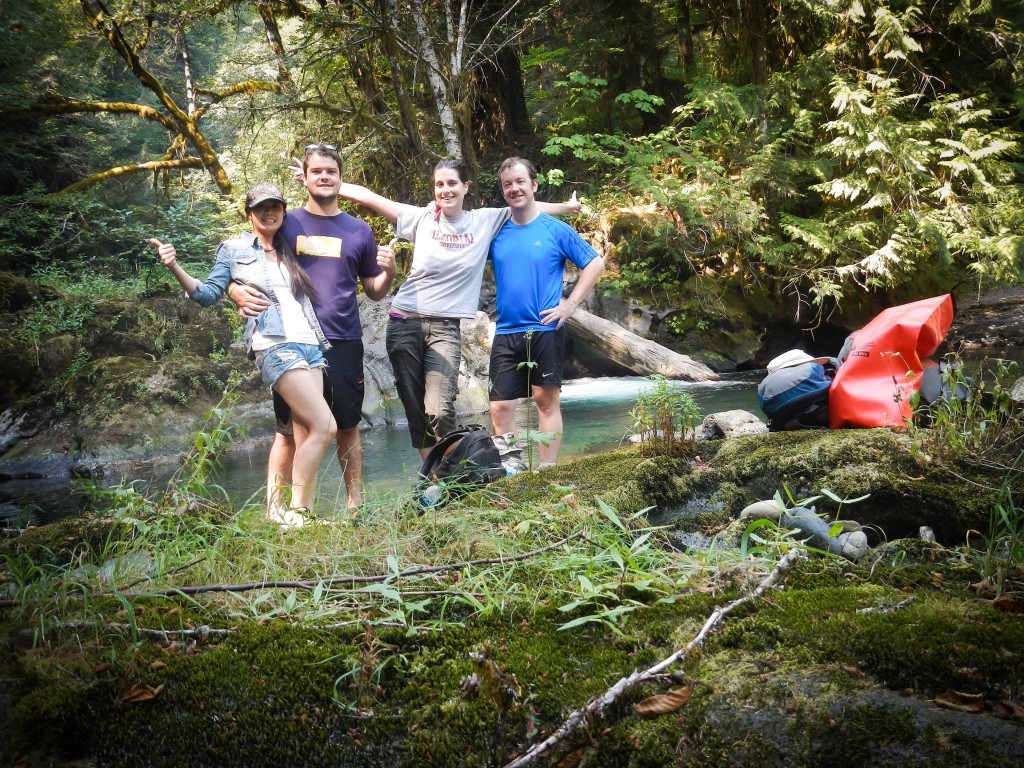 We had planned to stay with them only a few days and then go on a little road trip of our own, so they could have their family time. We started with Mt. Hood on the way to an overnight in Bend.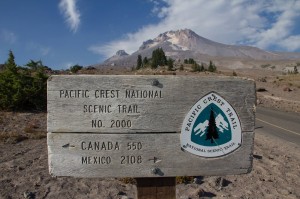 Bend was a surprise and we were both wishing we brought bicycles there. We had more good beer and a nice dinner and a walk around. The plan had been to head to Crater Lake, but it was thwarted by raging wildfires. All but one entrance to the park were closed due to fire, and it seemed like entering the park knowing all other exits had been blocked by fire was asking for trouble.
Instead we decided to cut back to the coast, via the Willamette National Forest. That meant driving through a massive lava flow and stopping for the view at Dee Wright Observatory. This is a neat stop – the lookout, which is made out of the surrounding bassaltic andesite, was constructed by the Civilian Conservation Corps during the Great Depression. It is a curious structure, and the interpretive trail is worth the walk (bring water!). The area was used in 1964 by NASA as a moon analogue training ground. Definitely worth the stop!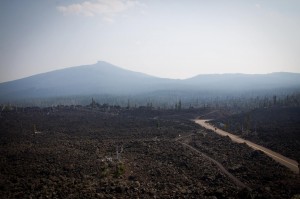 We had another pit stop a few hours later to stretch our legs, cool our feet off in the ocean, and explore the Oregon Dunes. I was expecting dunes on the order of what we have at Sauble Beach, and so I was very surprised when we got there. These dunes were amazing! They were fun to climb, although it was a bit harsh to be out there when the wind picked up. All in all, it was a very geological day.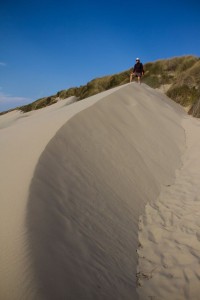 Our last stops before returning to Portland to catch a flight home were the Oregon Coast Scenic Railway which runs between Garibaldi and Rockaway Beach, and and a visit to the Tillamook Creamery to see how cheese is made. The train trip was fantastic – I LOVE a good train trip and this one had good scenery and a steam engine! It isn't too long, but the stopover is just enough to do a little exploring, and so it makes for a very nice small outing. And the Creamery was interesting too – they have turned it into quite the informative tourist attraction. And of course we got some ice cream and bought some cheese to snack on.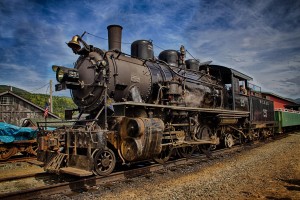 And then it was over! We drove back to Portland, grabbed one last meal from King Burrito on our way to a cheap hotel by the airport, and prepared for the long trip home. I'm sure we'll be back – there's a lot more to see!