On February 7, we left Malaysia and hopped onto a flight over to the island of Koh Samui, our first of two destinations during our week in Thailand.
Koh Samui, February 7-9 We caught an afternoon flight from Penang to Koh Samui. It was quick (1.5 hours) and the immigration procedures were uneventful. Before we knew it, we were checked into our little bungalow.  We had a delicious dinner just walking distance away, and soon after found ourselves chatting up the hotel staff and two folks from Montreal! It came out that it was my birthday, and one of the girls at the front desk ran out to pick up a little cupcake to celebrate with. How nice!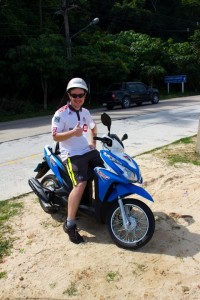 We decided to rent a couple of motorbikes and explore the island. The next day, we did exactly that. For 250 Baht/day (~$8.50 CAD), this is a fantastic way to see the island! We explored the northern shore with our new friends on the 8th, checking out neat shopping streets and Big Buddha Pier. The day after, we set out solo to ride the ~89 km circuit around the island. This included checking out a few temples, towns, beaches and a lovely waterfall that was absolutely packed with tourists.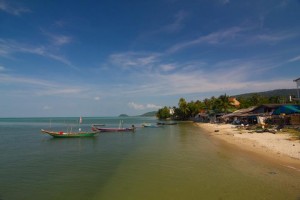 We had initially planned on seeing how we liked island life, and then asking the hotel to help us arrange a ferry/train combination ticket to Bangkok, but ran into a little trouble. The first bump in the road was liking the island life a lot more than we anticipated. We loved walking along the beaches at dusk, and found the food (both Thai and German) delicious! However, it being the high season meant we could not find a room to extend our stay. The second was that the train was booked up for 2 weeks. This left flying or an overnight bus as options to Bangkok. We chose to take the ferry and overnight bus.
Travel day, February 10 We woke up late, checked out, and then walked down the road to a Thai massage place where we had wonderful traditional Thai massages. The masseuses asked us if we would come back tomorrow to try a coconut oil massage, and I lamented not deciding to get a massage earlier in our stay! If we had more time, I certainly would have gone back. We then caught a cab to the town of Nathon, where we had one last seaside lunch and wandered around until it was time to get on the bus. The highlight was finding a bunch of local men crowded around a TV, engrossed in some Thai boxing (and betting).
When it was time (~5 pm), we boarded our bus armed with walk-on ferry tickets and meal vouchers for our "VIP dinner". The bus drove to the ferry terminal a little ways away, and we disembarked and walked down a rickety old pier to a smallish car carrying ferry. We hopped in and enjoyed the beautiful view of the Kohs at sunset, and about an hour and a half later walked off on the mainland in darkness. We hopped on our bus again and drove for perhaps an hour, before a brief break in Surat Thani, where we would have disembarked to catch the train, if we had tickets. Then we drove on until 10 pm, when we were given our dinner, a variety of Thai dishes that were all pretty good. Then we hunkered down for the long haul and drove through the night, arriving at the Mo Chit bus terminal in Bangkok just after 6 am. Although the bus was comfortable enough, it took a while to fall asleep.  That was okay, though, as seeing tiny towns flash by in a blaze of neon and glittering temples was also an interesting experience.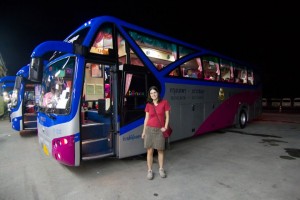 Bangkok, February 11-13 With only a couple of days planned in Bangkok, we stuck with pretty mainstream touristy things. We caught a cab from the bus station, and walked around the government buildings (even discovering crocodiles in some of the waterways!). Then, exhausted and still having hours before check-in at our hotel, we found a patio on Khao San Road, a major spot for backpackers. We had an early lunch and then a couple of pints while we watched a couple of footy games on TV. Watching all the tourists and touts go by was also interesting, and Mike delighted in taking photos of all the 'scams' that were happening on the street. Later that night we had dinner on nearby Soi Rambuttri, a more relaxed, cleaner, greener version of Khao San Road.
The next day we woke up and headed over to the Royal Palace, where there were about a million other tourists with the same idea. It was very beautiful, but it was very hot, especially because there was no water for sale and the dress code there requires pants! Although the architecture was stunning, we didn't last long in the crowds and heat. We headed back to the hotel to change into something cooler, and then walked down the waterfront. We explored a bunch of small markets streets and had a great sunset view of Wat Arun including fireworks from the Chinese New Year festival that was happening at its base. We grabbed dinner and then went to pack up, as we had the notoriously scam-ridden long day of travel overland to Cambodia to tackle next!